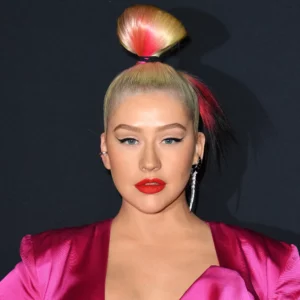 Name – Christina María Aguilera
Stage Name – Christina Aguilera
Date Of Birth – December 18, 1980
Birthplace – New York, US
Net Worth – $160 Million
Source Of Wealth: Singer, Model, Actor
Christina Aguilera is an American singer, songwriter, and actress. She was born on December 18, 1980, in Staten Island, New York, and was raised in Rochester and Wexford, Pennsylvania. Aguilera's parents, Fausto Xavier Aguilera and Shelly Loraine, divorced when she was young, and she was raised primarily by her mother. Aguilera's father is Ecuadorian, and her mother has Irish, Welsh, and German ancestry.
Aguilera began singing at a young age and appeared on the television show "Star Search" at the age of 8. She later appeared on the Disney Channel show "The Mickey Mouse Club," where she met future collaborators and friends Britney Spears and Justin Timberlake. Aguilera's debut single, "Genie in a Bottle," was released in 1999 and became a huge international hit, reaching the top of the charts in several countries.
Aguilera's debut album, "Christina Aguilera," was released in 1999 and was certified eight times platinum in the United States. It featured the hit singles "Genie in a Bottle," "What a Girl Wants," and "Come On Over Baby (All I Want Is You)." Aguilera's follow-up album, "Stripped," was released in 2002 and featured a more mature sound and themes. It included the hit singles "Dirrty," "Beautiful," and "Fighter."
Throughout her career, Aguilera has released a number of successful albums, including "Back to Basics" (2006), "Bionic" (2010), and "Liberation" (2018). She has also been featured on numerous hit songs, including "Lady Marmalade," "Moves Like Jagger," and "Say Something." In addition to her music career, Aguilera has also acted in a number of television shows and movies, including "Burlesque," "The Voice," and "Nashville."
Aguilera is known for her powerful voice and diverse vocal range, and has won numerous awards for her music, including four Grammy Awards. She has sold over 75 million records worldwide and is recognized as one of the best-selling female artists of all time.
In addition to her successful career, Aguilera is also known for her philanthropic efforts. She has worked with a number of charities and organizations, including the World Food Programme and Save the Children. Aguilera has also used her platform to raise awareness about important issues such as child abuse and domestic violence.
Aguilera is recognized as a pioneer of the pop music scene and has inspired a generation of young singers. She continues to make music and perform to this day, and remains a beloved and influential figure in the entertainment industry.